If you are looking to brighten a space and bring natural light inside, you will want to learn more about traditional skylights. Skylights flood a room with light from the sun, whether it is an office space or home, traditional skylights have been known to improve your mood and even your well-being.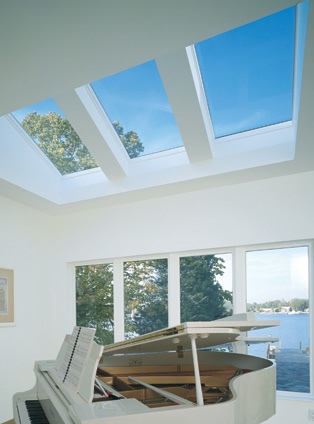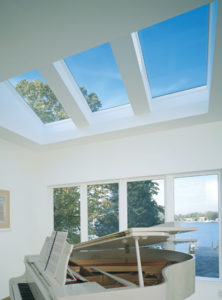 Skylights
What are some of the benefits of adding a skylight?
• Brighter room
• More cheerful
• Views of outdoors
• Natural light
• Affordable sense of well-being
The traditional skylight has been in use for many years. We have traditional models that are modern and will add light and warmth to an area. Light is nature's gift, and a skylight allows you to enjoy the clouds and blue sky while being indoors.
>> Related Content: Fixed Skylights
Energy efficiency is maintained with the sun providing light and less need for electrical lighting; your energy bill can be lower with the installation of a skylight or several of them. Enhancing the decor of a home, skylights make the space brighter and happier and the ambiance more positive.
Traditional skylights can be used on corrugated roofing, tile roofs, metal and concrete as well as with shingles. Designed for economy, the traditional skylight is made from acrylic and steel. The standard unit is not ventilated, although passive ventilation and fan-forced ventilation are options. They come in a variety of sizes, and flashing comes with choices of colors.
This type of skylight will work with both flat and pitched roofing. It can be added to a home that is being remodeled as well as new construction. Contractors love these skylights, as no framing, painting or sheetrock is necessary. We work with architects to help their clients enhance their dream home with light.
Ordering can be done online; just choose the items and add them to the shopping cart. They will be shipped promptly to a home or business. We proudly offer VELUX skylights as accents to your home or office space.
A Green Design
Our skylights carry the label of the NFRC, National Fenestration Rating Council, which adds the certification that these skylights help to keep cool in the summer and warm in the winter; they also keep out wind and resist condensation.
Currently there is a 30% Federal Tax Credit is available for customers who decide to "go green". Call us to find out more.
Professional Installation
We at Clear Vue Skylights can install your skylights professionally if needed. It is important that your traditional skylight be installed by a professional, which we can help with. Our customers know that the installation of their skylight will be done with expertise, allowing for the slope of the roof and other factors. Our skylights ensure optimum performance and have lasted many years; we have been bringing light to homes since 1996.
Some of the installation services we offer include:
• Installation and supply of the complete skylight kit
• Supply and installation to roof
• Custom design as well as manufacturing and installation
• Our distribution network can organize skylight installation
Give us a call to find out how Clear Vue Skylights can transform your home or office with natural light, bringing the outdoors inside and sky within reach. We have abundant testimonials that recommend out work, including this one from Kayla P.:
"…The installation went very smooth and they cleaned everything up nicely. I would absolutely recommend this company to anyone."
Contact us with a message to Central Florida Skylights or call 407.478.0008 to learn more.