Introduction
Even the darkest corner of your house can be brightened by a Velux Sun Tunnel Skylights! These uniquely designed tools offer a tremendous amount of flexibility. Because Sun Tunnels can be built using a flexible passageway for the light to enter your home, our installers can easily work around any obstacles in the roof or ceiling to install your skylight.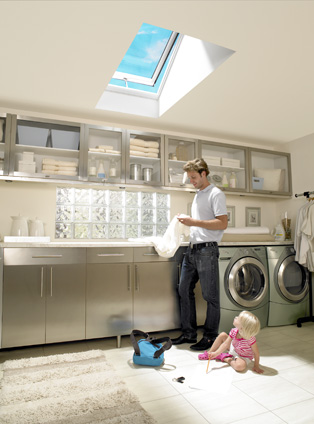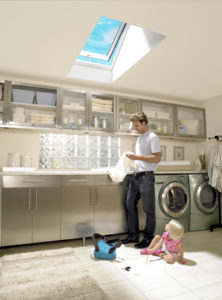 Enjoy the Sky in Privacy!
Depending on the size of your lot, your windows may not offer a lot of privacy. New construction seldom offers a great deal of green space between houses. With a skylight, you can quit worrying about blinds and enjoy an unobstructed view of the world.
Protection From the Elements
Sun Tunnel skylights are built under a fixed dome. This dome offers terrific protection from rain leaks when properly installed and seals the skylight, ultimately increasing the light in your home naturally.
Expertise is Key
There are several factors that impact the success of your skylight installation. For example, putting a Sun Tunnel on a south slope of your roof may cause a great deal of heat build-up unless you invest in the right cover.
Depending on where you need the light, a northern slope installation may offer both a reduction in heat build-up and adequate light.
Finally, the pitch or slope of your roof must be taken into consideration. While the top of your domed Sun Tunnel can be angled for best light capture, the cover and flange installation is critical to avoid outside moisture from getting down into your home and damaging your belongings or the structure of your home.
Our skilled professionals can offer plenty of guidance on the
• best location for your skylight
• proper cover to reduce heat build-up
• correct angle for optimum light
• best installation to avoid moisture penetration
>> Related Content: Traditional Skylights
Do You Need A Venting Skylight?
Because Sun Tunnel skylights are constructed under a sealed dome, these skylights do not offer venting. Thus, getting the right angle of installation and the proper cover on the skylight to reduce heat build-up is key.
If a venting skylight is necessary in your home, our qualified professionals are here and happy to help you make that choice! Please be aware that a venting skylight will require access to power.
For those who don't have extra power in a particular room, or if you're just looking for some extra light in an awkward area, a Sun Tunnel skylight is an excellent choice. Not only will this skylight bring more natural light into dim corners of your home, but the flexible light tube can be worked around joists and roof beams that would limit other forms of skylight construction.
More Than Just Rain-Proof
Velux Sun Tunnels are also built to resist condensation. Moisture and humidity are a constant here in beautiful, sunny Florida, so keeping humidity down will keep your skylight clean and providing beautiful daylight in your home for years to come! Remember, location and angle is key.
Invest in Your Home and Comfort
A Velux Sun Tunnel skylight is a terrific addition to any home. These useful light sources require no electrical power and can be angled to add light to almost any area of your home. Thanks to their domed covers, a properly installed skylight will resist moisture condensation and keep the rain out of your home. Contact us for information and guidance on installing one of these extremely flexible light sources in your home!